Dr. Rajnarayan Sahu
Director and Chief Embryologist
Dr. Rajnarayan Sahu is Director and Chief Embryologist at Ankuram IVF. He is a highly experienced embryologist with over a decade of experience in the field of Assisted Reproductive Technology (ART). He completed his Master's degree in Biotechnology from Bangalore University and obtained a PhD degree from Ranchi University. He has worked with several well-known establishments such as INDIRA IVF, Neelkanth Infertility and IVF centre, Santaan Fertility clinic, Genome the fertility centre, and AH IVF and Infertility Research Centre.
Dr. Sahu has expertise in all laboratory aspects of ART and has performed more than 10,000 IVF cycles with an excellent success rate. He is skilled in performing Intracytoplasmic sperm injection (ICSI), Blastomere Biopsy and fixation for PGD, Embryo freezing, vitrification and thawing of embryo and oocyte, embryo transfer, LASER assist hatch of embryos, and other related procedures. He has also published research work in international journals and contributed to books in the field of reproductive medicine.
Dr. Sahu has trained many embryologists for IUI & IVF procedures and has helped numerous patients achieve their dream of parenthood. His extensive experience and expertise in the field of ART make him one of the top embryologists in the country.
Dr. Rashida Hussain
Medical counsellor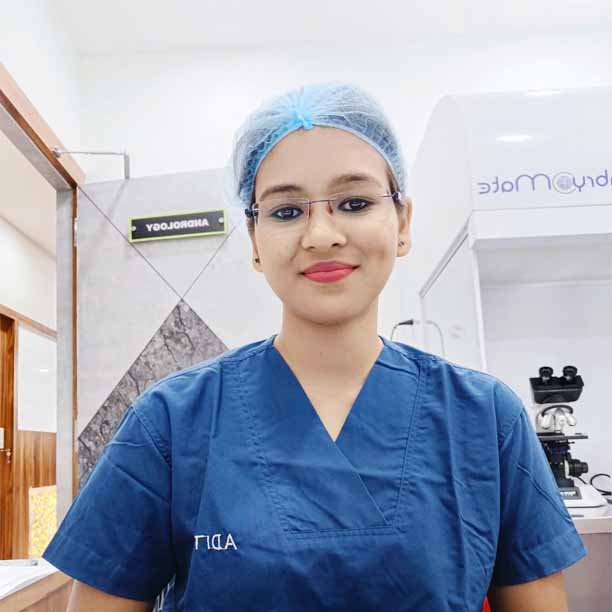 Aditi chandan
Embryologist
Sushma Bhengra
OT Incharge
Need some advice from our experts?
Request a Call Back Today Now!
We will make a single attempt to contact you from a withheld number, usually within 24 hours of your request.